Dental Hospital-Dentists speaking English in Shenzhen WhatsApp&TEL:+852 69416900(HongKong) +86 13924659233(Shenzhen)

Dentists speaking English in Shenzhen
Core tip:SanKang chain dentistry-HUA YUE dental hospital:A team of professional dentists who speak English in Shenzhen.Tel:+86 13924659233
San Kang chain dentistry : A team of professional dentists who speak English in Shenzhen.
Our dental clinic is a chain dentistry. There are three dental units in the urban area of Shenzhen. All the doctors and nurses have been certified, and the clinic introduces advanced professional equipment from abroad. The service process is strictly in accordance with the international standard, sterilized and hygienic rigidly. With our excellent service,professional technology,we have a good reputation from customers home and abroad.
Our clinic often receives foreign customers who live and work in Shenzhen (Shekou, Chiwan, Nanshan, Window of the world and the Overseas Chinese Town, Futian, Luohu, Buji), Hongkong, Guangzhou, Dongguan, Huizhou, and provides kinds of dental services for them, including teeth whitening, teeth filled, teeth wash, periodontal treatment, orthodontics and dental implants. At present, our clinic receives patients from many countries and regions, including America, Russia, Ukraine, Canada, Australia, South Korea, the United Kingdom, Middle East, South Africa. So far, we have solved the problem of foreign customers in Shenzhen, Hongkong and other provinces and cities could not find the professional dentists who can speak English fluently.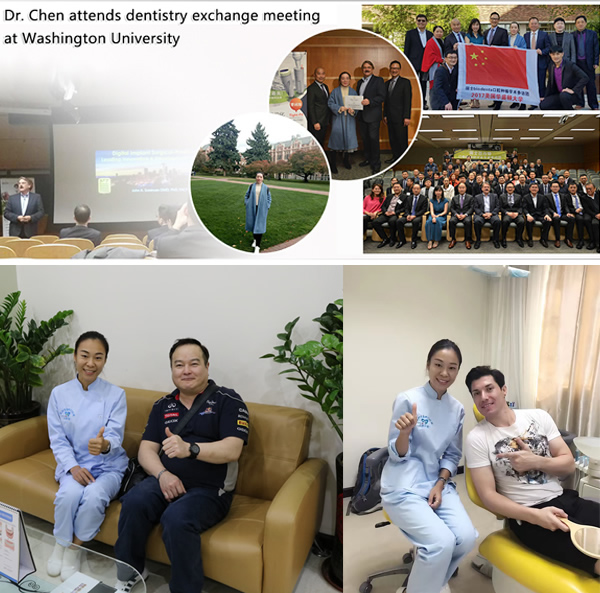 In addition, the dental fees of foreign guests and local citizens are the same. The price list of publicity can be referred to the website. If there is Shenzhen's government social medical insurance card, it can also be used in this clinic.
In order to serve foreign customers better, our clinic regularly arranges dentists to study in the US and Hongkong. Our Dr. Chen Xia went to Washington University to attend dental conferences two months ago.
Welcome to contact our dentist through telephone or whatsApp in advance. We will arrange a good doctor according to your needs.
WhatsApp and Telephone:+852 69416900(Hong Kong) 、+86 13924659233(Shenzhen)
Working time:08:00~23:00(Normal business of holidays)
Nearby station: Shenzhen Metro Line 7, ChiWei Station Exit A, walk straight 100 meters ahead
Address: Futian District, Shenzhen Binhe No. 3185,
SAN KANG
Dental Hospital
■Shenzhen dental hospital specially open free online consulting service,the professional individual will answer your question patiently.
■If you need our help, please call us or contact us through       WhatsApp:+852 69416900Welcome your consultation.
WhatsApp and telephone:+852 69416900(Hong Kong) +86 13924659233(Shenzhen)
Working time:09:00~18:00(Normal business of holidays)
Sankang Dental Chain has three chain branches in Luohu District and Futian District, which are government-sponsored medical insurance designated chain dentists.
Tip: Advance registration, discount, free consultation, free transfer