Dental Hospital-Dentists speaking English in Shenzhen WhatsApp&TEL:+852 69416900(HongKong) +86 13924659233(Shenzhen)

Anterior teeth for cosmetic restoration Case
Core tip:Case analysis: - Case - Name: Ms. Xie Age: 32 years old Dental problems: anterior teeth malalignment 20 years Treatment programs: E-max all-ceramic crowns [Case] details Ms. Xie, F, 32 years old. Conscious patients with anterior teeth mala
Case analysis:
- Case -
Name: Ms. Xie
Age: 32 years old
Dental problems: anterior teeth malalignment 20 years
Treatment programs: E-max all-ceramic crowns
[Case] details
Ms. Xie, F, 32 years old. Conscious patients with anterior teeth malalignment 20 years, the past two years found that partial anterior teeth caries, repeatedly cold-sensitive, not only affects the diet, but also affected the daily life, it came to Cambridge dental clinic, hoping to improve before the arrangement of the teeth, restore facial appearance.
[Discuss treatment regimen
Cambridge physician for dental treatment, inspection, full mouth One general health, was red and swollen gums no overflow pus. Full mouth normal relationship together, group together to protect the teeth. Up and down the midline missing dentition, the maxillary right side deflected nearly 1mm. Because the patient requires restoration of natural and realistic, so patients with mandibular and maxillary 14,24 color to color match. E-max conduct all-ceramic crowns.
[Anterior Tooth]
Following is a comparison chart before and after the repair, the effect is very satisfactory for the patient: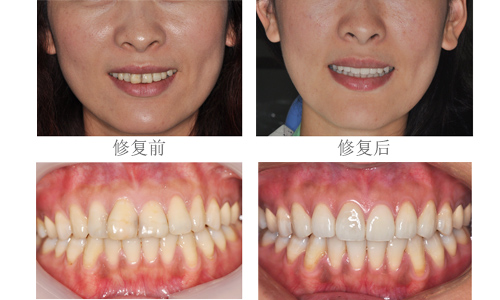 ■Shenzhen dental hospital specially open free online consulting service,the professional individual will answer your question patiently.
■If you need our help, please call us or contact us through       WhatsApp:+852 69416900Welcome your consultation.
WhatsApp and telephone:+852 69416900(Hong Kong) +86 13924659233(Shenzhen)
Working time:09:00~18:00(Normal business of holidays)
Sankang Dental Chain has three chain branches in Luohu District and Futian District, which are government-sponsored medical insurance designated chain dentists.
Tip: Advance registration, discount, free consultation, free transfer